RING Indoor Cam (2nd Gen - 2023 Release). 1080p HD Video, Color Night Vision, Two-Way Talk, Motion-Activated Notifications, Privacy Cover, Siren, Works with Alexa
RING Indoor Cam (2nd Gen - 2023 Release). 1080p HD Video, Color Night Vision, Two-Way Talk, Motion-Activated Notifications, Privacy Cover, Siren, Works with Alexa
Ask for Dealer Price
Regular price
$59.99 USD
Sale price
$57.99 USD
Unit price
per
Sale
Sold out
Need more quantity? We have it! Contact us and we will get it for you
Versatile protection and personalized peace of mind. That's Indoor Cam (2nd Gen). Get the whole picture in real time with 1080p HD video and Color Night Vision, right from your phone. Or keep the picture private by using the manual, removable Privacy Cover to turn off audio and video with a simple swivel.

Indoor Cam includes an adjustable camera mount—and can plug in wherever there's a power outlet—making it easy to find the perfect view up high or down low.
Watch over your home day or night in 1080p HD video with Color Night Vision.
Record a few extra seconds before every motion event with Advanced Pre-Roll to get a more complete picture of what happened.
See, hear, and speak in real time with Two-Way Talk and Live View.
Get real-time alerts when the camera detects movement—and choose exactly what your camera covers so you only get notified above movement that matters.
Sound off your powerful siren from the Ring App—whether you're scaring off intruders or breaking up a cat fight.
Find the perfect angle on a table—or mount up high with the flexible swivel mount. Indoor Cam is plug-in, making it easy to move where you need it.
Turn off your camera and mic with the manual Privacy Cover, then reactivate with a simple swivel.
Control what your cameras can see or record by blacking out off-limits areas, such as the bathroom door, your work desk, or a neighbor's window.
Save and share video and photos with an optional Ring Protect Plan (subscription sold separately).
Link with other Ring devices, allowing them to activate when Indoor Cam detects movement for additional security, recording angles, and more.
Works with Alexa so you can hear audio announcements when motion is detected.
Share
View full details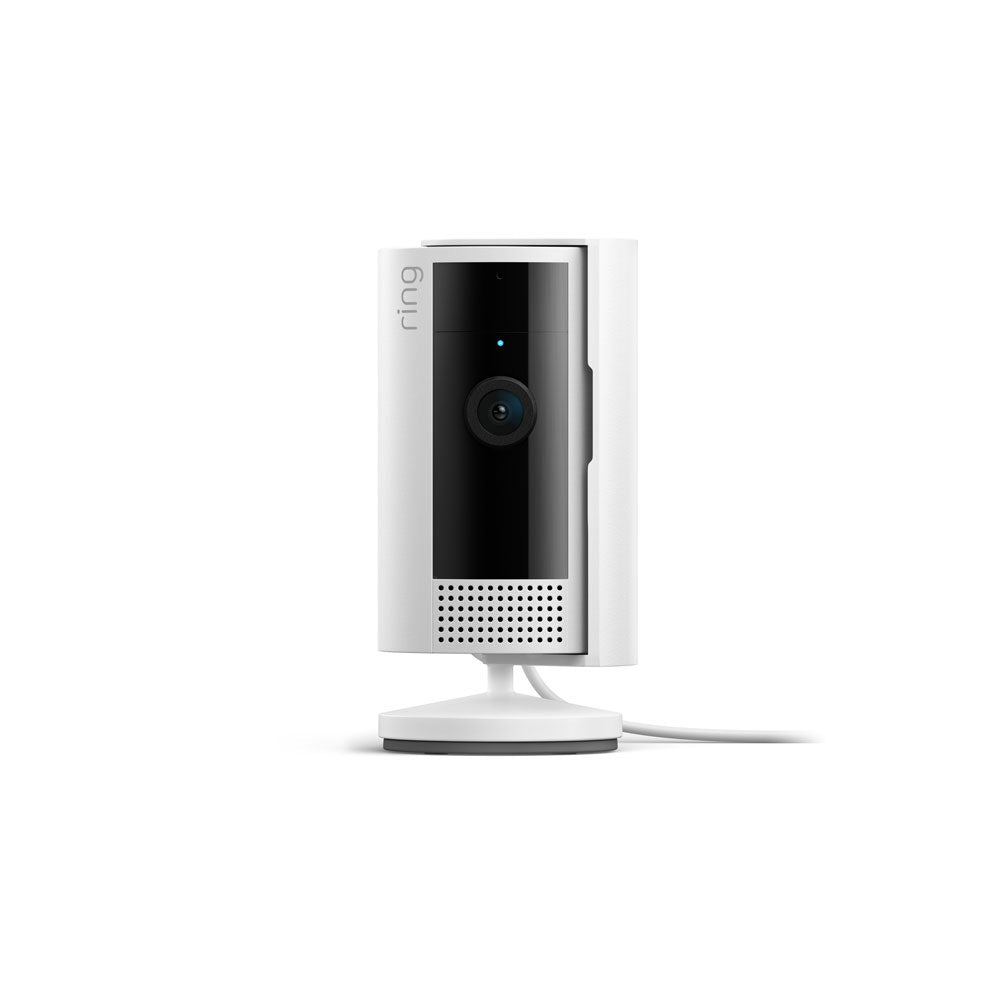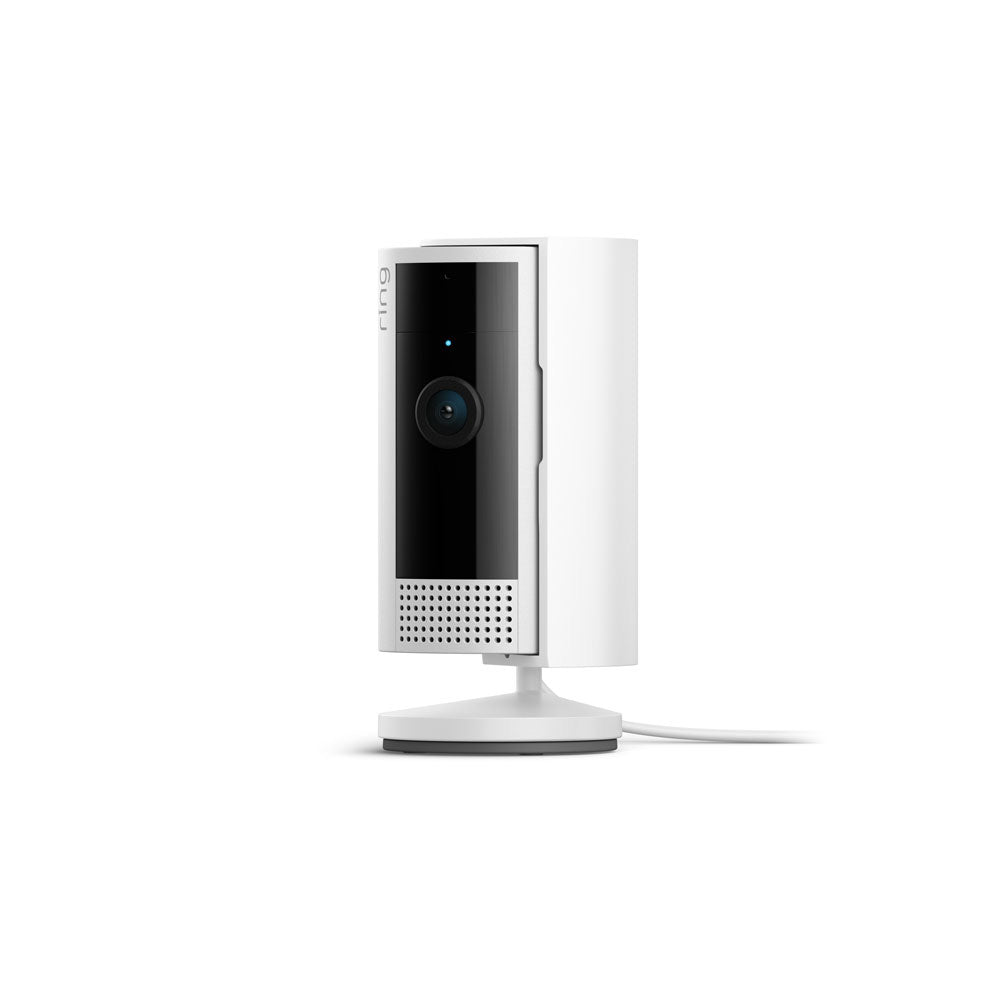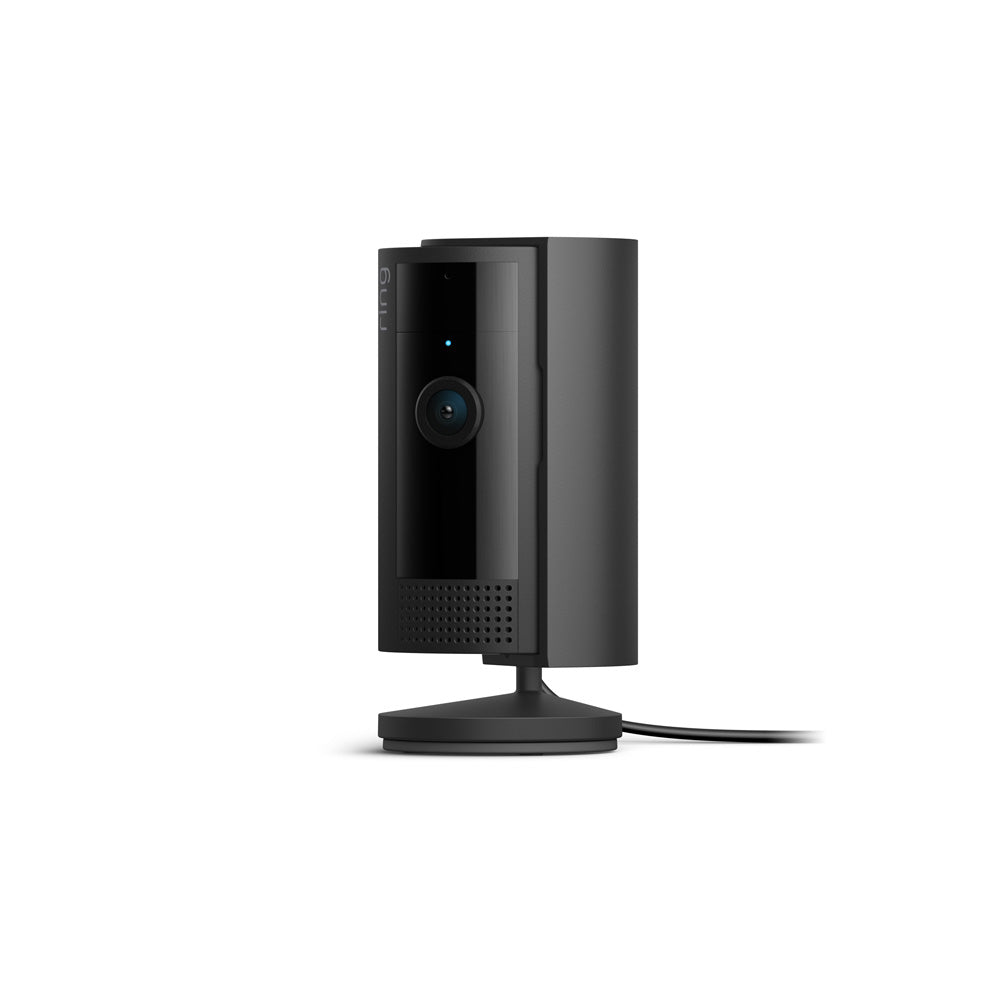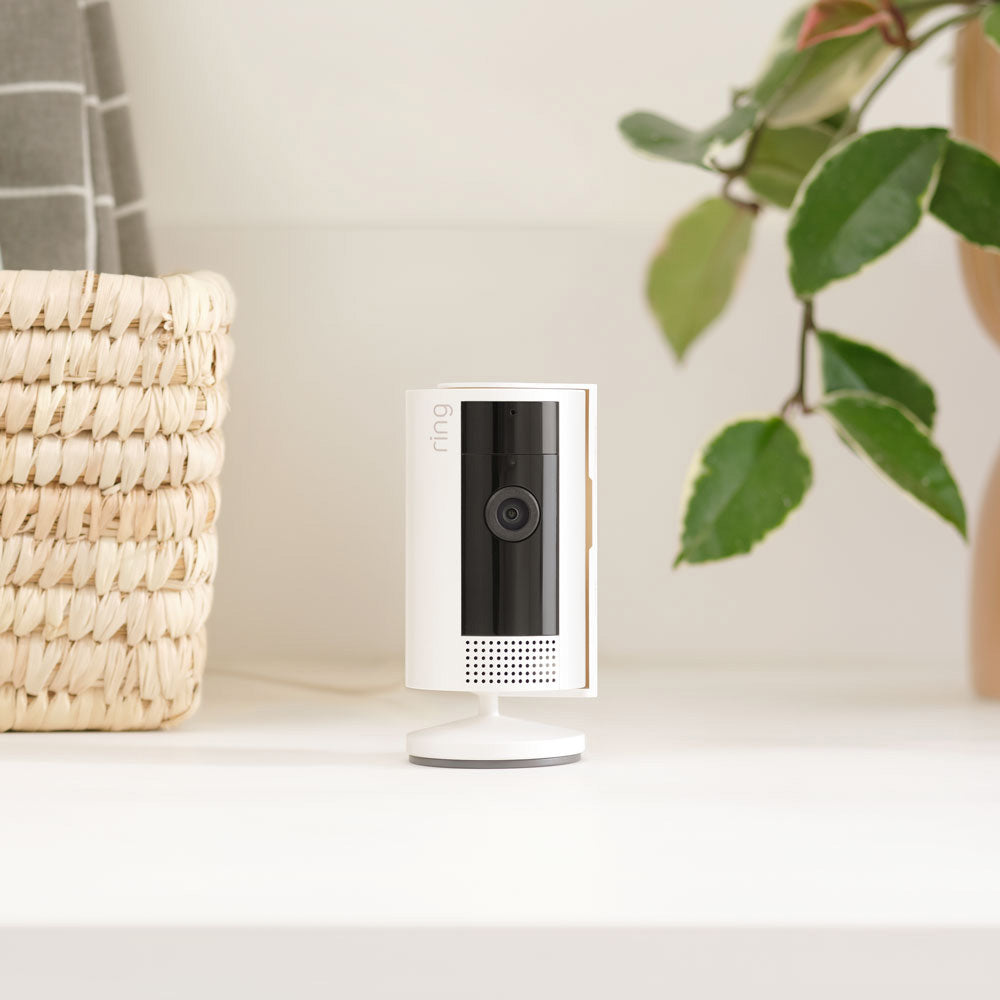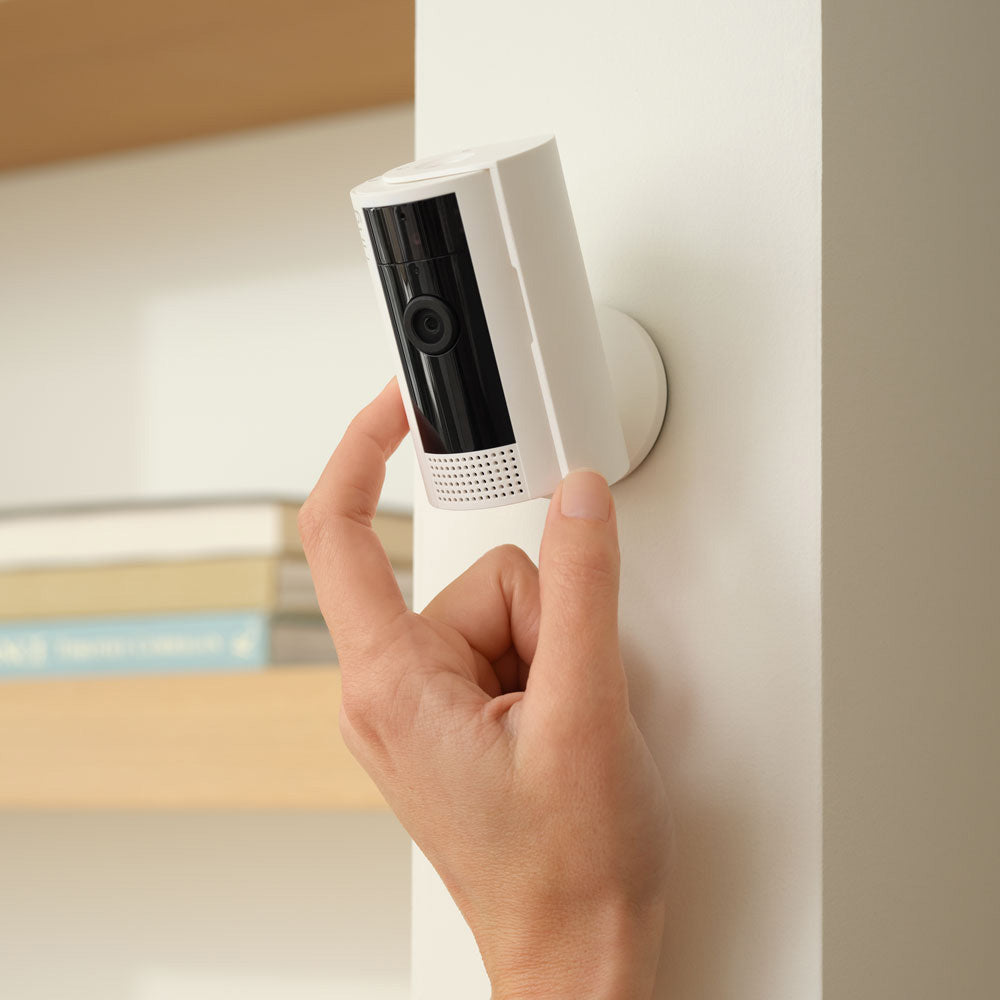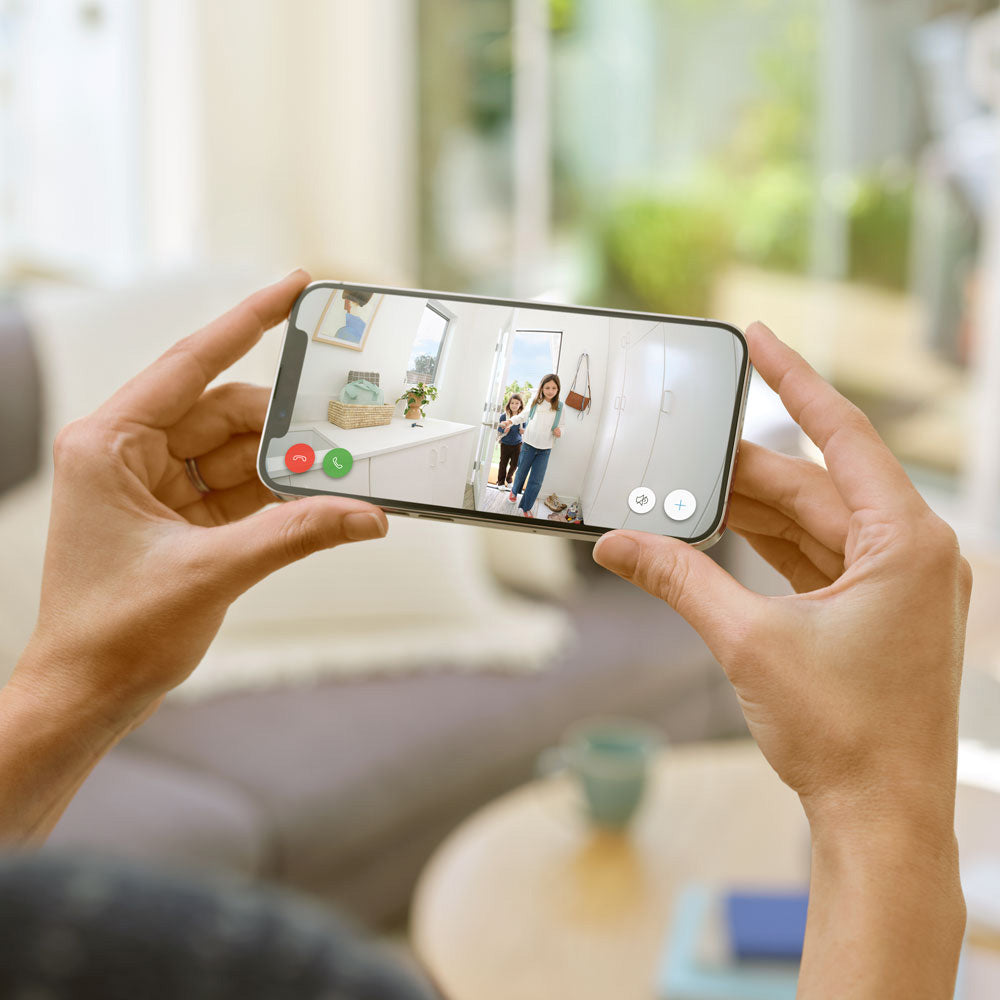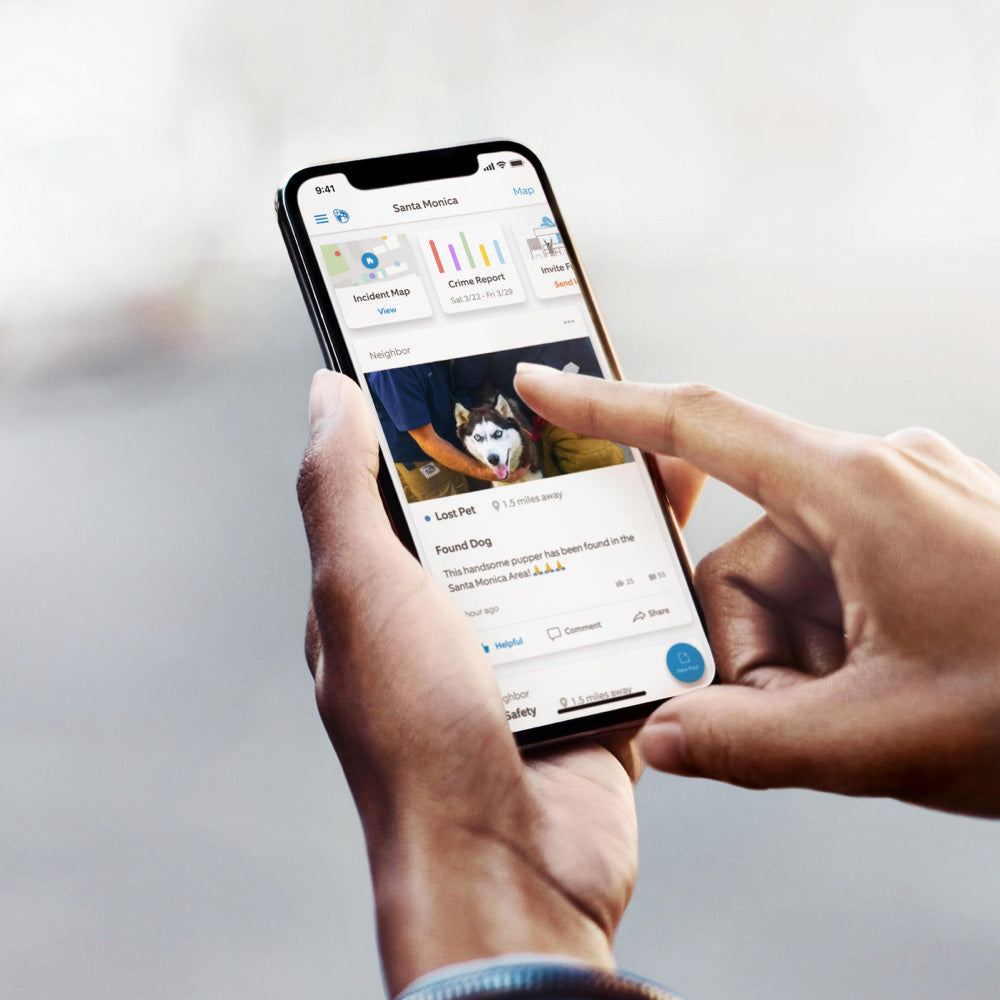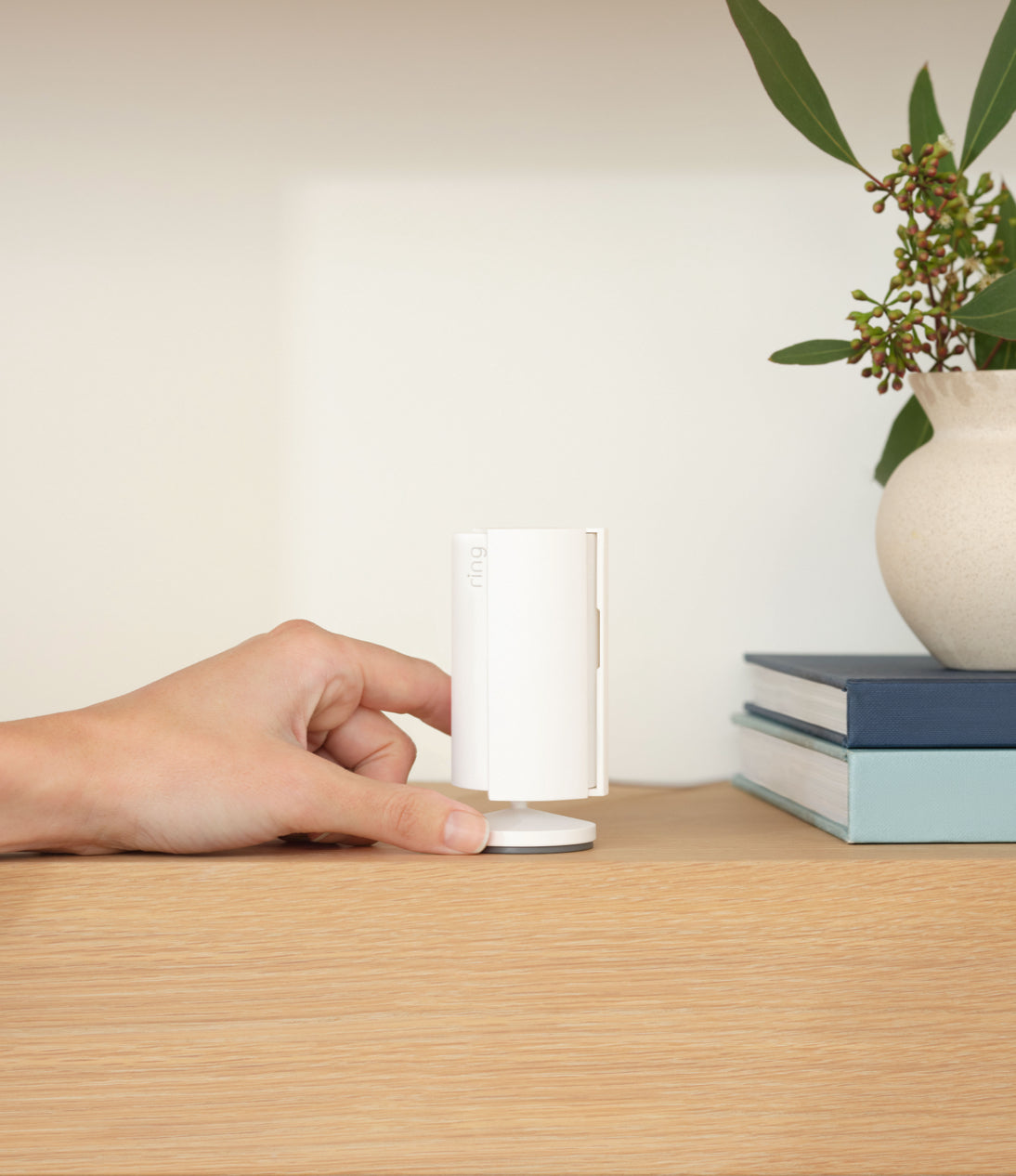 Specifications
Item
Value
Product Dimensions without Packaging (LxWxH)
"1.93 in. x 1.93 in. x 3.81 in. (49.0 mm x 49.0 mm x 96.8 mm)
Note: measurement includes ball joint and camera mount"
Package Dimensions (LxWxH)
4.38 in. x 2.14 in. x 4.06 in. (111.3 mm x 54.4 mm x 103.1 mm)
Product Weight without Packaging
71g or 2.55oz
Package Weight
213g or 7.5oz
Product Available Color Finish
White, Black
Image Sensor Type
CMOS
Video - Resolution
1080p HD
Video - Features
"Live View
1080p HD Video"
Night Vision Range Distance (ft.)
Color Night Vision
Video Signal
HD Video
Motion Detection
Customizable Motion Zones
Customizable Privacy Zones
Get alerts when motion is detected
Motion Detection Angle
Not Applicable
Field of View
143° diagonal, 115° horizontal, 59° vertical
Advanced Pre-Roll
Support 6s of Pre-roll audio and video before a motion detection event
Siren
Built-In Security Siren
72dB siren at 1m distance
Audio
Two-way audio - Support Full-Duplex communication through a mobile device, PC or tablet.
Two-Way Talk
Two-way audio with noise cancellation
Recording Storage
Cloud
Security Modes
Supports Video End-to-End encryption. Learn more at ring.com/e2ee
Smart Home - Works With
Works with Alexa, Ring
Ring Protect Plan
With a Ring Protect Plan (subscription sold separately), record all your videos, review what you missed for up to 180 days, and share videos and photos.
Smart Home Protocol
Bluetooth, Wi-Fi
Smart Home - Voice Control Requirements
No Voice Control
Camera Features
"Two-Way Talk, 1080p HD Video, Live View, Color Night Vision, Advanced Pre-Roll, Built-in Siren, Built-in Microphone, Built-in Speaker, Ceiling Mountable"
Power
Adapter
Indoor Micro USB Power Adapter (6.5 ft.)
Power Input:
10W
Power Output:
Not applicable
Solar Power Rating:
Not applicable
Power Connection:
Plug-in
Plug Adapters:
Micro USB
Connectivity

Internet Requirements: Requires a minimum upload speed of 2 Mbps for optimal performance.
Connectivity: 802.11 b/g/n wifi connection @ 2.4GHz
OS Version Support: Ring App requires:
- iOS 14 and above
- Android 9 and above

Installation

Average Installation Time: 5 - 10 minutes
Operating Conditions: -4°F to 113°F (-20°C to 45°C)
Set up Requirements:
1. Vertical or horizontal surface for mounting
2. Require standard power outlet
Mounting Base: Can sit freestanding, mount to a wall or ceiling

General

Material Composition: 100% Plastic Exterior
Indoor/Outdoor: Indoor
Camera Type: Bullet
Box Includes:
- Indoor Cam
- Privacy cover (attached to camera)
- Micro USB Power Adapter
- Install hardware
- Setup Guide
- Warranty and Safety document
- Security sticker
Country of Origin: China
Warranty and Service: One-year limited warranty from manufacturer
Security: This device receives guaranteed software security updates until at least four years after the device is last available for purchase as a new unit on ring websites. Learn more. If you already own a Ring device, visit Software Security Updates in Ring Control Center for information specific to your device.
Frequently Asked Questions
What's the difference between Indoor Cam and Stick Up Cam?

The main difference between Indoor Cam and Stick Up Cam is where you can place them and how they receive power. Indoor Cam is an indoor-only camera that plugs into standard power outlets for nonstop power. Stick Up Cam is a versatile camera that goes almost anywhere, indoors or out. Plus, it's weather-resistant and comes in 4 different power options: battery, plug-in, solar, and Power over Ethernet.
What's the Privacy Cover and how does it work?

Indoor Cam (2nd Gen) comes with a manual, removable Privacy Cover. When you slide it in front of the camera lens, Indoor Cam's camera and mic will turn off. When you're ready to turn Indoor Cam back on, just swivel the Privacy Cover to the side. And if you're ever unsure how you left it, you can check the status of your camera in the Ring App at any time.
What privacy features are included with Indoor Cam?

Indoor Cam (2nd Gen) includes a Privacy Cover, which you can manually adjust to cover the camera lens and turn off camera and microphone recording. Indoor Cam also allows you to configure your privacy settings based on your current needs. Toggle motion alerts, motion, or audio recording off in the Ring App at any time. Create a motion schedule to disable motion alerts and recording during the times you're usually home. Use Modes to select a camera state with Disarmed, Home, or Away Mode (subscription required, sold separately). Additionally, if you have a specific area in your home that you don't want to monitor, create Privacy Zones to black out that area to control what you want to see or record.
Does Indoor Cam save my videos and photos so I can view them later?

If you have a subscription to Ring Protect, you can save videos captured by your security camera to your Ring account for up to 180 days. You can also choose how long your videos are stored through the Control Center. Photos captured will be saved to your Ring account for up to 7 days, so you can review them at any time. More information about video storage can be found here.

A free 30-day Ring Protect Trial is included with any Ring Doorbell or home Security Camera purchase unless you already have a Ring Protect Plus or Pro subscription at the same location. You may subscribe to a Ring Protect Plan at any time during your trial, and you won't be charged for your subscription until after your trial ends.

If you have a subscription to Ring Protect, you can share your videos and photos with anyone, including neighbors, friends, family, and local public safety agencies. Click here to learn more about Ring Protect.
What's Ring Protect?

Ring Protect is a comprehensive subscription that activates video recording and photo capture, saving and sharing for your Ring Doorbell or Security Camera, plus a few extra perks. Click here to learn more about Ring Protect.
Do I need Ring Protect to use Indoor Cam?

No. You can still use Ring Doorbells and Security Cameras to watch over your home and answer the door from anywhere, even without a subscription to Ring Protect. Without Ring Protect, you'll still receive real-time notifications when anyone comes to your door, and you can answer the notification to see, hear, and speak to visitors in real time right from your mobile device. However, without a subscription to Ring Protect, you won't be able to review any videos that you missed in real time, and you won't be able to save your videos or share them with anyone. Photos will not be captured. Click here to learn more about Ring Protect and to choose a plan that works for you.
Collapsible content
Warranty

Standard Manufacturer Warranty (included in purchase price):
1 year manufacturer warranty. Please check refund policy for further details.
Additional Links